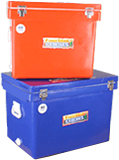 There are few things better than an icy cold refreshment on a hot day when you are outdoors. Your food and drinks will stay colder for longer with a Fraser Island Ice Box. When the temperature dial turns red, there's nothing like a Fraser Island Ice Box to keep your ice for 7 days or more. There's little wonder they are recognised as Australia's favourite Ice Boxes with cooling solutions for camping, fishing, 4WD enthusiasts, recreation, home and business applications.
Fraser Island Ice Boxes offer exceptional thermal insulation, thanks to their foamed polyethylene construction. They are available in an extensive range of sizes and colours to suit your individual needs.
Fraser Island Ice Boxes are built tough to last the rigors of the rugged Australian outdoors. They come standard with quality seals, durable handles, stainless steel clasp latches and removable pin hinges.
Call today on 4124 1855 (Hervey Bay) or 4121 2288 (Maryborough) to find out more.